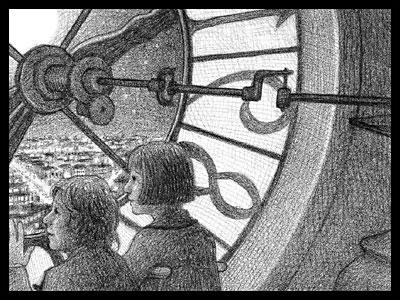 this week i'm reading
The Invention of Hugo Cabret
by Brian Selznick.
found this review at the official website for the book:
orphan, clock keeper, and thief: twelve-year-old Hugo lives in the walls of a busy Paris train station, where his survival depends on secrets and anonymity. But when his world suddenly interlocks with an eccentric girl and the owner of a small toy booth in the train station, Hugo's undercover life, and his most precious secret, are put in jeopardy. A cryptic drawing, a treasured notebook, a stolen key, a mechanical man, and a hidden message all come together...in
The Invention of Hugo Cabret.
This 526-page book is told in both words and pictures.
The Invention of Hugo Cabret
is not exactly a novel, and it's not quite a picture book, and it's not really a graphic novel, or a flip book, or a movie, but a combination of all these things. Each picture (there are nearly three hundred pages of pictures!) takes up an entire double-page spread, and the story moves forward as you turn the pages to see the next moment unfold in front of you.
hope you get a chance check-out this 2008 caldecott award-winning book.